Go down the page for a free MP3 player.




THE WORDS & MUSIC INDEX:
-"ZOOM"
-"I JUST DON'T WANT TO BE LONELY"
-"MORE THAN WORDS CAN SAY"

-"YOU ARE MY SONG"
-"BLUER THAN BLUE"
-"PLEASE BE CAREFUL WITH MY HEART"
None here but I put in part of a David Pomeranz song. "It's In Everyone Of Us"

"R2K" Lyrics from Chad's Regine Page.
Our music files never made it on the net.
But check out Regine Fan Zelfred's excellent collection
of Regine music here. And be groovy Baby!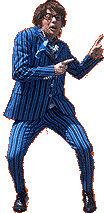 Haven't heard all her music, Baby? Catch some from these sites!
Regine's Very "First" album Regine's "1990" Regine's "Reason Enough"
Regine's "My Love Emotion" Regine's "Retro"

Now if so happen some of you fans out there in Europe & the USA run into a music executive or a music scout
you be sure to direct that person here to sample her material. They'll know what they hear when they hear it.
And tell your foreign friends about it too so they can listen to a real good singer for a change.
And remember to tell them she sounds even better live!
_______________________________________
Get a FREE download of a Mp3 player for your computer.
The Best sounding audio player on the net!

"SONIQUE" -MP3 PLAYER
System Requirements:
Windows 95/98/NT4 or Win2000,
Pentium 90 or better,
16 MB RAM (32+ suggested),
16-bit or higher color depth,
sound card

FAST MP3 Search, Copyright © 1999 FAST ASA.

Copyright© 1999 Lycos, Inc. All Rights Reserved. Lycos® is a
registered trademark of Carnegie Mellon University.