WECOME TO MusicMan's Music News Page
Jun 99
Remember Shanice?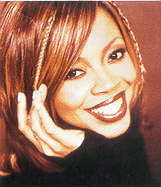 8 years ago Shanice Wilson was anointed a teen angel when her single 'I Love Your Smile'
hit no.1 on Billboard's R & B chart. But the vocalist's 1994 followup album,
21 Ways to Grow, proved disappointingly earthbound. Now 25, Shanice,
who has appeared in Broadway's Les Miserables and dueted with Jon Secada
on the Pocahantas soundtrack, is soaring once again. Her single 'When I Close My Eyes'
recently scored the biggest one-week jump in the History of Billboard hot 100 chart.

I n t e r v i e w:

Was it a trill to break Billboard's record?
I was screaming and jumping up and down. I still can't believe it!

Have you changed alot since you were an 18 year old wonder?
I'm working alot harder now. When I was younger,
all I wanted to do was sing.
Now I'm more involve on the business end.

Has romance bloomed wuith success?
No, I'm by myself. I'm so busy,
If I did have a boyfriend he would leave me
because i'm never there. And I don't want to settle.
I'm just waiting for the right man to come along.


Interview by MARISA SANDORA for People's magazine May '99

Regine Velasquez Attends the Premiere Of her New Movie
Regine's new movie " Dahil May Isang Ikaw " had its premiere
on the 31st of may 99 at Megamall on 2 of its screens.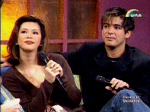 2net, a member of the Regine Internet mailing list was there to watch
as well as another list member. One of the few lucky ones to make it in.
There were no more tickets a few hours before the showing. The theaters
were jampacked. The stairs at the balcony weren't seen anymore
since people were sitting on them.
2net said:
Regine looked pretty and sexy. She was wearing a
black dress with plunging neckline. She and Aga were sitting side by side
with Mang Gerry on the other side of Aga and Kuh Ledesma on the other side
of Regine. There were other celebrities who came - Dina Bonnevie, Ricky
Lee and Raymart Santiago.

The cast went to Benihana after the showing. It was Viva's treat
for them.

The ones who stood out in this movie were Gloria Romero,
Rufa Mae Quinto and of course, Regine. Those 3 were hilarious.


'Special Thanks' to 2net for the on the spot reporting. We may yet see her someday with her own little corner of the Philippine Star newspaper or Daily Inquirer.


Bangles Go To Bowl For Beatles Gig
HOLLYWOOD - A reunion of the Bangles is among the additions to the Hollywood Bowl's gala opening featuring George Martin conducting the Hollywood Bowl Orchestra in a program of Beatles music.
The Bangles, known for 1980s hits ``Walk Like an Egyptian,'' ''Manic Monday'' and, appropriately enough, ``Going Down to Liverpool,'' will be making their first appearance together in 10 years.
Also on the June 25 bill is an all-star band comprising singer Trevor Rabin, drummer Stewart Copeland, guitarist Eric Johnson and bassist Armand Sabal-Lecco. Violinist Pip Clarke and classical guitarist Manuel Barrueco will also appear.
The Fab 4, a Beatles tribute band, will perform in the Bowl's plaza before the concert.
By Phil Gallo

Phil. Star, June 5, 1999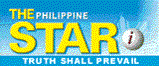 Viva Scores Double Victory With 'Dahil...' and 'Entrapment'

Viva Entertainment scored a double victory this week with the opening of
"Entrapment" and "Dahil May Isang Ikaw." The techno-thriller starring Sean
Connery and Catherine Zeta-Jones from 20th Century Fox scored a whopping
P5.5 million at the box-office for distributor Viva Int'l. Pictures, when
it officially opened in Metro Manila theaters last Wednesday, June 2.

On the other hand, "Dahil May Isang Ikaw" marks the first team-up of Aga
Muhlach and Regine Velasquez. The romantic-comedy directed by Joyce
Bernal, which also stars the loveteam of Kim de los Santos and Dino
Guevarra came in second to "Entrapment" with an opening gross of P4.4
million.
reported from the Philippine Star Newspaper


DAVID POMERANZ
David Pomeranz just left the Philippines
after recording new material for his latest album.
David wrote the hit songs:
'Trying to Get The Feelings Again" & "The Old Songs" for Barry Manilow
David also wrote "Its In Every One Of Us" for the movie 'BIG' staring Tom Hanks.
David's biggest hits in the Philippines was:
"If You Walked Away" & Got To Believe In Magic".
MusicMan J met David at the Philippines Plaza in 1983. Good man.


THIS AREA HAS BEEN DISCONTINUED. -Dec '99
Please free free to e-mail and mention any corrections or information I overlooked. I accept any contributions from fans subject to the counsel's approval. (Basically I ask the group of housewives I see hanging around the park where I jog.) You can't ask for a better group of celebrity expert advisors.
WECOME TO MusicMan's Music News Page
@@@@@@@@@@@@@@@@@@@@@@@@@@@@@@@@@@@@@@@@@@@@