REGINE VELASQUEZ:

"Papa's girl is Mama's pet, too"

SONGBIRD Regine Velasquez got the biggest surprise of her life when she turned 23 the April of last year. During a birthday celebration on "Sa Liggo Na Po Sila," she was rendering a medley of her hits, unaware that a treat was about to be sprung on her. Midway through the song, her voice was joined by someone else's-- that of her mom, Tessie.
So bowled over was Regine by the "guest appearance" that she couldn't stop crying even minutes after the number was over. Never in her wildest fantasies did she think that her low-key and shy mother could be convinced to sing in front of an audience -- and on television, at that.
Looking back now, Aling Tessie still can't quite believe that she agreed to do it. But if she were asked again, she says, she would readily do it for her beloved eldest daughter. "Siguro lahat ng ina, gagawin ang lahat para sa anak nila," she smiles, still recalling her nervousness about appearing in public. "At saka taped naman 'yung kanta kaya nabawasan na rin ang kaba ko."
Followers of Regine are probably more familiar with the bemoustached Mang Gerry who hovers nearby at his daughter's press conferences, during her concerts and at other engagements. While her husband acts as the chaperone-bodyguard-alalay all rolled into one, Aling Tessie prefers to stay at home in Bulacan where she tends to a sari-sari store and look after the other kids. It is only when Mang Gerry cannot accompany Regine that she leaves the confines of the household.
"Kahit noon pang sumasali-sali pa lang si 'Te (short for "Ate," the elder Velasquez's pet name for Regine), mas gusto kong ako ang ang nasa bahay at silang mag ama ang lumalabas," Aling Tessie recalls. It is actually to her that
Regine's musical roots can be traced. Aling Tessie had long been a choir trainor.
She would lull her eldest child to sleep by singing her favorite ditties. No wonder that at about 5 or 6, Regine was already showing her warbling talents. She also learned to play the guitar later on.
"Sumasabay sa mga kanta sa radyo, sumasayaw. Naku, napakalista ng batang 'yan. Napansin naman namin na may boses, may ibubuga, kaya sinanay-sanay namin," Aling Tessie relates.
So well know now is the way Mang Gerry developed Regine's lung power -- by submerging her neck-deep in a river back in their native Leyte and asking her to sing. According to Mang Gerry, it was the same training technique used by boxer Rocky Marciano. "Hindi naman ako natakot 'nung gawin niya 'yon kasi hawak naman niya 'yung bata at saka alam kong hindi nya pababayaang malunod ang anak namin," Aling Tessie laughingly notes.
Scientifically based or not, the water-immersion exercise seems to hav done wonders. Regine is now recognized as one of the most powerful belters around, her voice soaring to such unimaginable heights. Too, Regine seems to be on the verge of singing stardom abroad with the release of her first record album in the Asian region. (Her duet with Chinese superstar Jackie Cheung, "In Love with You," has already reached No. 4 on the MTV Asia countdown.)
Although she felt her daughter was gifted, Aling Tessie claims they never thought Regine would become an entertainer so popular she appears on various TV shows on most days, commands SRO audiences at venues like the Folk Arts Theater and ULTRA and now tours key Asian cities for promotional appearances.
"Hanggang ngayon hindi pa rin kami makapaniwala na narating na niya 'yung kinaroroonan niya ngayon," the proud mother effuses.
When musing about Regine's success, Aling Tessie cannot help but feel nostalgic, "Mahilig talagang sumali 'yan sa mga amateur contest n'ung araw.
'Yung mga piyesta sa iba-ibang barangay, dinadayo niya para kumanta. Minsan,
pag ine-ensayo ko siya, nakukurot ko 'yan kasi may pagkapilya," she recalls with a smile.
"Pag natatalo siya, nagso-sorry pa 'yan sa akin," pa 'yan sa akin," Aling
Tessie continues. "Sinasabi naman namin na hindi lahat ng pagkakataon mananalo siya. Sabi namin basta pinagbutihan niya, ayos na 'yon. Pero siya mismo, masama ang loob niya. Lagi niyang sinasabi, 'di bale, sa susunod, mananalo na raw siya."
Regine is an affectionate sister to siblings Maircar, Jojo and twins Deanna and Deca, according to Aling Tessie. "Sipsip 'yang mga kapatid niya sa kanya.
Eh pa'no, maliit lang ang baon na binibigay ng Papa nila sa kanila, pero nakakahingi sila sa Ate nila," Aling Tessie chuckles. "Si 'Te naman, simple lang maglambing. Pag nasa bahay, at manonood ng TV, gusto niyan, dadalhan mo ng kakainin niya. 'Yung mga kapatid naman niya, unahan sa pagkuha ng ulam, ng tubig..."
With her substantial earnings, Regine has managed to buy a house and lot for the family. And while she can already afford to live independently, perhaps rent an apartment in Manila, the singer prefers to keep Bulacan her base where she finds solace from the demands of celebrety. "Kahit nakakaangat na siya, gan'on pa rin ang pakikitungo niya. 'Yan ang lagi naming dinadasal, na hindi siya magbago," Aling Tessie observes.
Up to now, when Regine has spent nearly a decade in show business, Aling Tessie feels the same thrill as when her daughter was just starting as a professional performer. She enthuses, "Pag alam naming lalabas siya sa TV,
ako ang unang-unang nakabantay. Tatawagin ko 'yung mga kapatid niya at saka 'yung mga kasama namin sa bahay para manood. Nando'n pa rin 'yung halong kaba at saka tuwa 'pag nakikita namin siya. Tuwing naririnig ko 'yung mga kanta niya sa radyo, halos maiyak pa rin ako, eh."
Given what the eldest Velasquez kid has achieved, does Aling Tessie wish anything else for Regine? "Sana makapag-asawa na siya." she replies smilingly. "Hindi naman sa pinamimigay ko na siya, pero hanggang ngayon, wala pa ring nanliligaw. Ayoko siyang tumandang dalaga. At saka gusto ko nang magka-apo."
No doubt, if she could, the dutiful Regine would instantly make Aling Tessie the happiest mother -- and an even happier grandma -- in the world.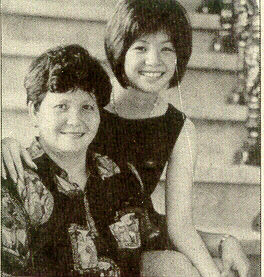 Mommie Velasquez & Chona
Music: The article is right about the sari-sari store. I went by several times and saw the mom there. Such a nice & friendly lady. She always smiling. With Regine you got to work some to get her to smile fast. But when she does- it's sunglasses time.
-meaning she gots one heck of a beautiful smile...

Now why can't my neighborhood moms be this nice?
Mrs. Velasquez never waved her bolo at me. Not even once.
_____________________
Back to Main
Archives Area
TABLE OF CONTENTS
_______________________
"Moms are the best source of strength in Families."
One day, when we were speaking about my mother and my husband complimented her.
I asked him how easy he could like her so much after knowing her for such a short
time. "It's easy," he replied. "Without her, you wouldn't exist."
I have not forgotten that lesson of love. -Maria Teresa Bijos Faidiga