-THE DIVA AND THE DANCER- Regine Velasquez and G Toengi. At first glance, it seems that hosting SOP is the only thing these two women have in common. One sings while the other struts her stuff on stage. And as Regine's voice soars to new heights, G is a bundle of energy as she shimmies to the latest dance tracks. The diva and the dancer.

Born into the lifestyles that can only be described as worlds apart, they are probably as different as two people can be.

Born in Europe, Nevilly Sur Seine France to be exact, Giselle Ann Toengi was raised in single-parent home. Her dad dies when she was a little girl and her mom never remarried . G got her first taste of fame via commercials. For a while, she was the toast of advertising world making her presence felt in back to back print ads and TV commercials. Then showbiz beckoned.

Always eager to take on a new challenge, G jumped into the foray and began what was the beginning of an exciting showbiz career. One where in the span of but a few years, she has already made her mark.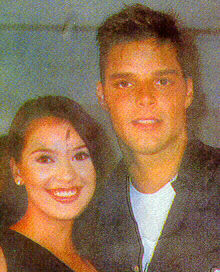 G Toengi with Pop Superstar Ricky Martin. If G is regarded as the spirited showbiz sophomore , Regine, with what she has gone through, triumphed over and accompanied, may have already earned her place among showbiz biggest and most bankable.

So much have been written abut her rags-to-riches story that it has now become showbiz lore. How a lass from Bulacan rose from her humble beginnings to become the Songbird of Asia. How her father, the now famous Mang Gerry, trained his ward by submerging her neck-deep in the ocean.. Looking back now, Regine Velasquez truly has come along, long way. But she insists that there are some things that remain true to this day. Her love for her family remains the same, and the fact that her father is her "idol" remains true to this day. And if it weren't for her sister Cacai's recent marriage, the two would still be sharing the same room, once in a while probably sleeping I the same bed, even if there were two room.

"Exited na naga akong malapit na yung Sunday , Thursday palang iniisip ko na kung ano yung isusuot ko," this from the gregarious G, who seems to have found new joy in dressing up for her new found home in "SOP". Not surprisingly, the songbird echoes her sentiments. She also loves experimenting new look almost every Sunday . "I like to try out different styles, different hair, para iba-iba naman yung nakikita nung tao. Tsaka enjoy din ako na nababagobago ako yung dating ko."

Regine also loves that the show is live every Sunday. After all, she is the concert artist at heart. "It's different high when your performing in the front of the people .. Feeling ko I'm floating. Iba kasi yung nakikita ko yung response nila sa music ko. That's one of the reasons why I love coming to work on Sundays. Enjoy yung trabaho."

And it seems that Regine isn't the only one enjoying herself. Enjoy talaga ako pag nagsasayaw . I love dancing and I am so gald I get to do it here on 'SOP."

They may have been born on different sides of the world and they may have very little in common, but two things they do share is a passion for their craft and a love for their Sunday noontime home in GMA.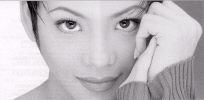 -BONUS ARTICLES-
Phil. Daily Inquirer, Sept. 28, 1999

Why Regine and Not G Toengi?
by Leah Salterio-Gatdula

IS IT TRUE that Giselle Toengi felt bad she was not chosen to do the Ricky
Martin interview in Singapore, where the Latin pop superstar recently went
on an album promo junket for his latest musical outing?

G reportedly questioned why it was Regine, her co-host on GMA 7's Sunday
noontime show, "S.O.P.," who was sent to interview Ricky.

Regine herself was surprised when she was asked to do the interview. She
initially found it exciting to meet Ricky up close and personal, so she
agreed to go. But after the trip, Regine said interviewing celebrities is
not really her cup of tea, so she vowed not to do such a thing again.

G, meanwhile, was far from sulking. Having interviewed Ricky twice--in
Milan and Singapore--she could have been the perfect choice. After all, she
even had a stint as an MTV veejay. So it was only logical for her to be
disappointed.

We heard, however, that the reason Regine was sent to Singapore was that
she appears to be the favorite of the executive producer of "S.O.P.."

Whether G is at odds with the EP, we haven't confirmed.
______________________________________
Phil. Star, Sept. 7, 1999

Now it can be told: While we were in Singapore for the Ricky Martin Asian
presscon, our group was peeved Monday night when Sony Music guys Wally
Chamsay (Managing Director) and Cristina Castillo (Marketing Manager)
invited us to a dinner in a place similar to the local fisherman's place
(you know, you can choose any kind of food, "live" or cooked). Reason? Some
other "guests" were taking their own sweet time -- shopping? We thought all
the while that it was Regine Velasquez (who arrived that morning from
Manila) making "pa-istar" in Singapore, prompting Bulletin's Cris Belen to
wonder, "Baka akala niya concert niya ang pupuntahan natin!" Inquirer's
Nestor Torre, always in and ahead of time, was just as irritated, just like
me. So we left ahead in a cab, with the rest arriving "one hour" later. It
turned out that the cause of delay wasn't Regine (sorry Regine for our
suspecting it was you) but her travelling companion (with an
Indian-sounding name) who wasn't even a member of the official Sony group.

(My high school Math teacher once said that idiots shouldn't be thinking things without learning about them first. In the spirit of that teacher's wisdom I appeal to writers to learn something about truth in journalism. It isn't based on what you think you know but what is actually true. Leave the wild stories in your head. Tell us what happened not what you think is happening. You'll spend less time saying sorry all the time and be more productive.)
_________________________________
Back to Regine's Main
Table of Contents
_________________________________

-Thank you for coming in to read-

"The real power in the world today is knowledge"