-REGINE'S IDEA OF A SEXY MAN-
Virginal Regine Velasquez, at 20, still has to fall in love. In fact, she still has to get out on a date. She says she has no suitors, "Walang manliligaw sa akin, walang magkakamali."
Could it be the distance a suitor would travel to court Regine who lives faraway Bulacan? Regines's father, Mang Gerry, scoffs at the idea. "Bakit ako, n'ong naliligaw hindi nalalayuan," he says. Taga Leyete ang napangasawa ko."
Despite Regine's naivete, she has definite ideas of what a sexy man. "Importante sa akin 'yung guwapo at matangkad, kaya hindi kasali si Janno (Gibbs) doon. But Janno's my date for Valentine. Were doing a show called "Follish Hearts" at the PICC Plenary Hall on Feb.13 and 14. Date ko rin on Valentine ang mga manonood. Malat mo, maraming gwapo doon."
The singer, who began her career doing the rounds of amateur shows sice she was 7, now feels she's reeping the fruits of her hard work. In July last year, her first major concert "Narito Ako" held at the Folk Arts Theater two days before the killer earthquake confirmed Regine's arrival as one of the brightest stars in the music business. Last December she went to Cebu for "Narito Ako, Cebu," a turn away hit in the queen city of the South.
Despite the possible role in London musical "Miss Saigon" for which she auditioned in New York last year, Regine opted to stay in the country and map out her career here. "After five years of hard work, ngayon ko pa lang narandaman ang career ko dito kaya ayokong iwanan ito," she says of that decision.
What else does this little girl with the big voice want to do? "Gusto kong mag-date; magkaroon muna ng boyfriend tapos makipag-date," she says seriously.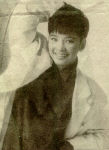 Regine turning 20.

Below are Regine's ten choices of sexiest men: "By rating? Okey, by rating. Number one is Bruce Willis. Gusto ko 'yung itsurang mukhang mambubugbog pero mabait.

"Number two is Richard Gomez. Siya ang perfect tall, dark, and handsome and gentleman.

"Number three si Mel Gibson, mala-Ricahrd Gomez 'din 'yung category niya, pero feeling ko mas gentle pa rin Mel Gibson."

Does she find Mel Gibson's butt sexy the way most women do?

"Weeeeell, kindda. But what do I know about these things anyway.

"Number Four…. Wala na akong maisip… Gusto ko si Patrick Swayze. Ang lakas ng sex appeal niya, e. "Yun bang hindi niya pang-dancer kaya sexy.

"Number 5 si Julio Diaz. Gusto ko 'yung itsura niya na innocent-looking man, tapos dark, at promdi. Taga-Bulacan din 'yan.

"Number Six… (long pause)…"

Singer? Models? Randy Santiago?

"I don't rreally find him sexy. Sexy ba si Randy? Lahat kasi sa akin kailangan mukha. (Laughs) Randy soryy ha. Randy, hindi ka pangit, ha. Hindi lang 'yung type mo ang sexy sa akin."

So who else is sexy to Regine? The model rumored to be courting her?

"Wala na ngang lumiligaw sa akin."

How about a singer also rumored to have a crush on her?

"Si Ogie? (sequels) Utang na loob, ha (laughs).

Baskteball players?

"Aaah, ano, Number 6 si Jerry Cordinera. Matangkad eh. Mukhang mabait. Si Jojo Lastimosa. 'Yon, 'yon ang pinaka-sexy ang legs. 'Di ba naf ganda-ganda ng legs niya?"

What about Gary V? Tom Cruise?

"Hindi ko sila feel. Gusto ko 'yung mukhang macho, hindi yung pretty boy.

"Number 8, gusto ko si Kurt Russel dahil ang ganda ng chin niya, and his body also."

"Sino nga ba 'yung model na kamukha ni Richard Gomez? Si Jeffrey Veloso, Number 9, he looks like Richard Gomez.

"Number 10,uuuuuuuhhhhhmmmm… sino pa nga ba? Napansin mo lahat matangkad? Kaya hindi kasama si Janno. Sino pa nga ba? 'Yon, si Tonton Gutierrez. Matagal ko na 'yung crush."

Does she know Toton personally?

"Hindi, pero kilala ko siya, hindi niya ako kilala. Crush ko siya maski hindi niya ako kilala. Ang gwapo gwapo niya .

Oh, well - Regine Velasquez must find sometime to be just herself - a little girl - not only with a big voice but literally, man-size crushes…

Originally an article written in a Philippine daily newspaper by Ernie Duque. ___________________________
TABLE OF CONTENTS

___________________________
-Have a Happy & Educational Day-