Philippine Star, May 30, 1999

The Best Way to Regine's Heart..




by Maridol Raņoa-Bismark

If you're a young swain wanting to court Regine Velasquez, don't expect to
win her over with dinner dates, goo-goo eyes and sweet nothing. Regine
wants none of those instant courtship tactics.

What she wants instead are sincere overtures of friendship that can develop
into something deeper, more meaningful. Feelings that blossom slowly take
more root for Regine. And the effect is much more powerful, more lasting.

"When a person is courting somebody, he puts his best foot forward,"
explains Regine, who co-stars with Aga Muhlach in the romantic film 'Dahil
May Isang Ikaw.' Which is not how she wants things to be.

Regine obviously wants to know her man, warts and all. And putting one's
best foot forward is hardly the way for her to do this.

"You can talk to a friend. Show him who you are," Regine reasons out. But
when the person is courting you, she goes on, a line separates what the
person shows you and what he really is.

At 29 and a survivor of a failed romance with Ariel Rivera, who married
Gelli de Belen a few years ago, Regine is now more wise to the ways of love.

"Friendship is important to me. I am not the type of person who falls in
love at first sight because he is handsome or what," she describes herself.

Understandably many - if not most men - including Aga, feel intimidated by
a woman of so many accomplishments like Regine.

And they are wary of sharing the spotlight with the celebrity from Bulacan
who now has a house of her own in Quezon City.

The fact hardly bothers Regine, though. As she says, "A boyfriend is not
something I look for. I'm a whole person. And I believe love will just
catch you. For me, it's just some kind of bonus."

When love does catch her, Regine says she can be very showy with her
feelings. She will not keep the poor guy guessing about her feelings and
thereby deny both of them happiness by playing hard to get.

"Why will I make it hard for the guy? I'm showy with my feelings, but I
also know my limitations," Regine relates.

The lucky guy she will eventually marry, Regine adds, must at least be
established in his field. After all, Regine has been the family
breadwinner for many years now, and she does not want to work just as hard
for the rest of her life.

"Being the breadwinner is my biggest achievement," she proudly admits. And
although she is not materialistic, Regine wants to at least lay that
breadwinner side of her to rest and concentrate on taking care of the
children when she settles down.

The go-go girl plans to take it easy, enjoy the company of her husband and
kids for a change.

"For me, what's important is the marriage, not the wedding. I want to have
a wonderful family," Regine explains.

Besides, she realizes that some things don't last forever and two of them
happen to be fame and popularity.

"We must give things up, no matter how painful it is," she says
matter-of-factly. Not for her is the agony and embarrassment of hanging on
to anything - a career, for instance - when all signs show that she has to
let go.

After all, there's more to Regine than the singer you see on the concert
stage, or the young entrepreneur who falls for Aga in 'Dahil May Isang
Ikaw.' She is also into painting, directing concerts, even photography.

Someday, her eyes have that faraway look, she will return to school, which
she had to exchange in favor of work that will give her family a more
comfortable life.

From all indications though, Regine must wait some more before she fulfills
that part of her dream. Now that she has parted amicably with long-time
business manager Ronnie Henares, Regine is learning the ropes of handling
her career all by her lonesome.

The road ahead is not exactly a bed of roses, but Regine is not
complaining. Now, she has no one to run to but herself if a problem crops
up, say, in the middle of a performance.

"It's all part of my growth as a person anyway," she says.

Regine will have a concert in San Francisco next month, and she expects to
meet people in the recording business there.

Now, Regine's career is purely her ballgame. Fourteen years in the
business have prepared her to turn to no one but herself in this stage of
her career. As she says, it may not be smooth sailing all the way, but
it's definitely worth it.


Alot of good words of wisdom from a very sharp woman...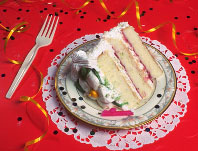 "Have a piece of cake Regine. You earned it."

_____________________

to Main
Archives Area

back to Regine's
TABLE OF CONTENTS

-Regine's Articles Section-